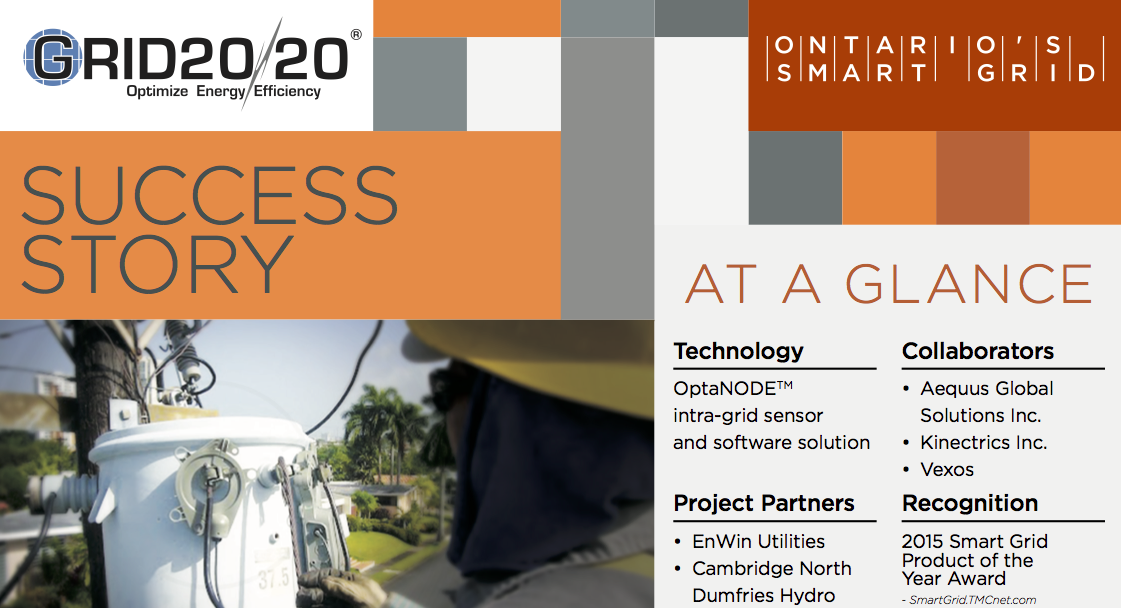 GRID20/20 received a $1.6 million grant to provide a 2014-2015 Demonstration Project in Ontario, Canada. Upon conclusion of the pioneering intra-grid sensor solution project, the Ontario Ministry of Energy recognized GRID20/20 as a Success Story resulting from its proactive Smart Grid Fund initiative.
Project Overview
North American distribution transformer monitoring (DTM) company, GRID20/20, partnered with two Ontario LDCs to install and test an intelligent sensor system that offers an unparalleled window into the heart of the power grid.
Sponsored by Ontario's Ministry of Energy, the 21-month pilot is an important demonstration in grid reliability and a shining example of the innovative projects being funded through Ontario's Smart
Grid Fund.
Project Outcomes
The GRID20/20 pilot, which involved the installation of 128 sensors at partner LDCs in Ontario, proved that intra-grid data can be extracted in a fast and accurate manner and used proactively to identify unfavorable distribution grid conditions for remediation by LDC operators.
Read the full story: MOE GRID20/20 SGF Success Story